Here's the view from our hotel room at the Marriot in Salt Lake City, Utah.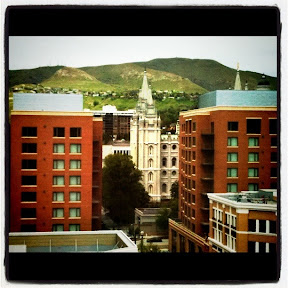 We are here for my hubbies work, he's participating in a trade show and I tagged along. I got to help work the booth yesterday which I actually enjoyed. Following the show we had a quick break to change then headed to the Market Street Grill in downtown Salt Lake. It was good and the strawberry shortcake was so yummy!
We leave tomorrow and although I've enjoyed our trip, I cannot wait to get home to our boys. A big thanks to grandma for watching them and making sure they are having a blast.
Only bummer of the trip, I was hoping to visit Alice Lane Home but discovered that it is in Orem Utah. Maybe next time.
Posted using BlogPress from my iPhone